The Venom Fever
THE VENOM FEVER
Hundreds of $6 Million Venom
seats awarded in November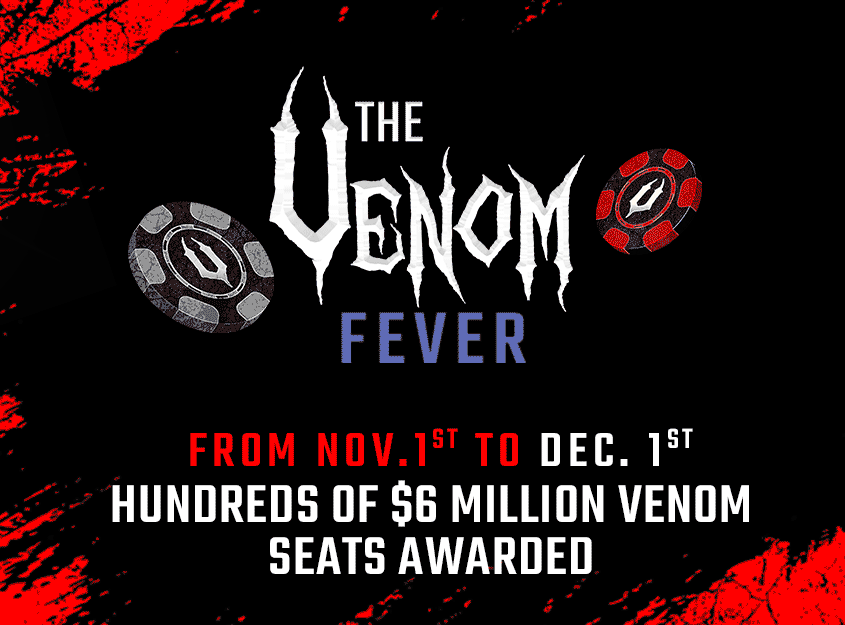 *FROM NOVEMBER 1st TO DECEMBER 1st
There's a fever happening all November at Americas Cardroom, but don't bother lining up for a vaccination.  You'll want to do everything in your power to catch Venom Fever since we'll be awarding hundreds of seats in our upcoming $6 Million Venom tourney, which gets underway on November 27th.
The $6 Million Venom is a multi-day tournament with a guaranteed $1 Million first-place prize.  Thanks to Venom Fever, you don't have pay $2,650 for your seat.  Just take advantage of our Cyclones, Steps, Skips, or Mega Satellites to earn your seat for as little as $0.
*COMING NOVEMBER 14th!
...EVERYTHING
Are you ready for the storm?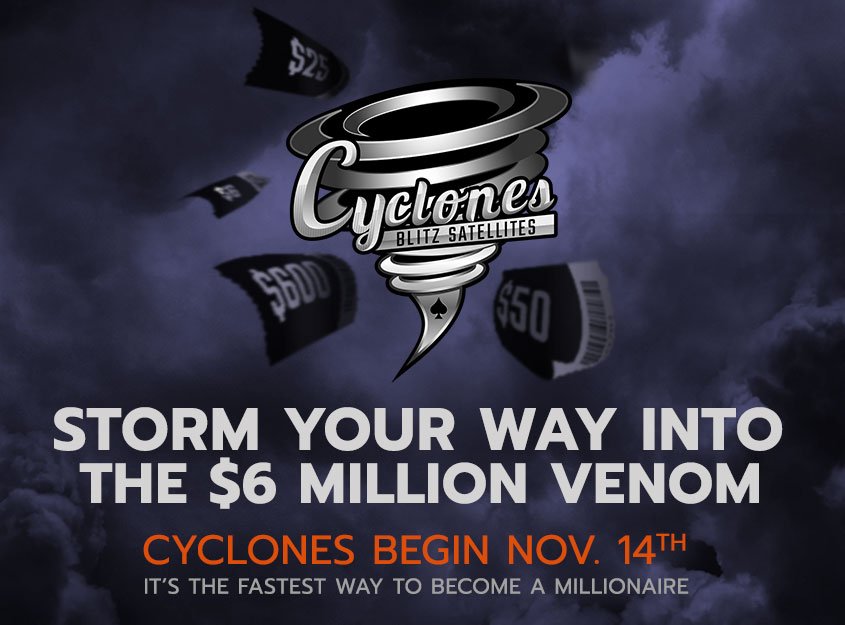 Our Cyclone tournaments are just like our popular blitz poker games.  You'll have the opportunity to buy-in at whatever step you choose, but the goal is always to get 5,000 chips to advance to the next step.
Experience high speed poker and play to win numerous $6 Million Venom seats.  There are seven Cyclone steps and the seventh step awards seats worth $2,650. Cyclones are available on mobile, Mac, and PC.
THE FIRST STEP IS FREE
STEP TOURNAMENTS
Let you work your way to a $6 Million Venom seat
Our Step Tournaments let you work your way to a $6 Million Venom seat for pocket change.  Conquer whichever step you choose and you'll win a seat in the subsequent step.
Choose from sit and go, on demand, or scheduled steps. Did we mention that the first step is free?
DON'T HAVE TIME FOR ALL THE STEPS?
SKIP TOURNAMENTS
Then Skip Tournaments were made for you. Take advantage of these satellites to bypass one or several steps en route to your $6 Million Venom seat.
A GREAT WAY TO SAVE TIME
MEGA SATELLITES
Our Mega Satellites don't cost much, but they award dozens of $6 Million Venom seats at once.  Mega Satellites are a great way to save time and money.